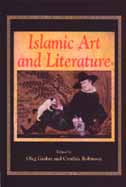 Edited by Oleg Grabar, one of the leading experts in Islamic art history, along with Cynthia Robinson, this book breaks new ground in the field of Middle Eastern art history.
While illuminated manuscripts from Persia and the Arab world are outstanding masterpieces of art, only recent scholarship in Islamic visual culture includes written sources in its consideration of the relationships between the textual and visual worlds. Likewise, scholars of Arabic and Persian literature have become aware of the comparative and interpretive possibilities contained within visual sources. Nevertheless, separation between the two fields of inquiry remains prevalent. These six essays — three by art historians and three by specialists in Arabic and Persian literature — examine specific instances in which texts and images which would seem to have been intended as one cultural product have traditionally been studied separately. Each essay reunites visual and written or oral products in order to evaluate the mechanisms through which written (or spoken) texts and the images produced in conjunction with them operate in precise contexts.
The essays are enhanced with beautiful illustrations selected by the contributors.