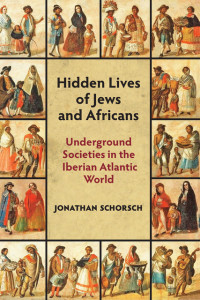 "A real tour de force" –Reviews in History
"Schorsch introduces a cast of characters in a series of one-act plays, short stories, and extended mediations that describe particular engagements with what it meant to live between identities." –Journal of Spanish Cultural Studies
The 16th– and 17th-century Iberian Atlantic was a turbulent world of adventures, slaves traders, and forced conversion to Catholicism. The Spanish and Portuguese rulers used caste and "blood" to divide the peoples of the empire, who, in turn, created their own societies to cope with their oppressors and one another. Schorsch describes the interactions between members of these diverse groups within households and with their societies at large.
Converted Africans and Jews were persecuted in the Inquisition for secretly practicing their former religions. The Africans working in the jails of the Inquisition wielded power over the accused converted Jews (Conversos). Some were witnesses for the Inquisition; others became messengers between Converso prisoners.
In this tangle of religions, cultures, and hierarchies, nothing was simple or straight-forward. A conflict between two surgeons in Cartagena de Indias, one a former slave and the other a Converso, involved not only jealous lovers and persecution at the hands of the Inquisitors, but also secret societies, African magic, and worldwide conspiracy theories. Another Inquisition case, against a woman known as "Mulatta Marano," the daughter of an African slave woman and a Converso father in Mexico, revealed a network of Africans engaged in Jewish rites.