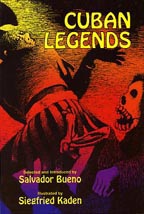 This collection of Cuban legends, compiled by the renowned essayist and literary critic Salvador Bueno, brings readers the best of a time-honored tradition of storytelling in Cuba. These tales, passed on from generation to generation throughout the island, are here retold by a diverse group of prominent Cuban literary figures. Their stories embrace a broad spectrum of Cuban history, from the remote past to the modern era.
The legends fall into three major groups. The book features stories of the Taino and Siboney, the island's original inhabitants, accompanied by narratives about Afro-Cuban religious and cultural traditions, and finally tales that are typically "Cuban" because they illustrate both the cohesion of the various strands — Hispanic, African, and indigenous — that define Cuban nationality and the patriotism and love of freedom exemplified in the celebrated struggles against Spanish colonialism. Cuban Legends brings to life the stories of unforgettable people and words that have survived the passage of time. They are both witty and wise, and capture the essential spirit of Cuban culture.
The book also features illustrations by Siegfried Kaden.