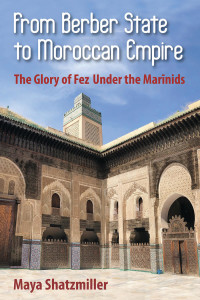 "A masterpiece of historical scholarship"–Midwest Book Review (March 2020)
Medieval Fez was a main center of education, art, and commerce from the 13th to the 16th centuries after the Berber tribe of the Marinids seized power in Morocco and moved the capital from Marrakesh to Fez. As non-Arabs, they gained legitimacy by founding medresas, religious universities. They also supported the arts and commerce, and expanded their state into an empire. It was the Golden Age of the Fez. Maya Shatzmiller draws a historical panorama of this era, highlighting its mover and shakers in locations from North Africa to the Mediterranean world.
This new edition has a new introduction and chapter on the Moroccan empire during the Marinid period focusing on trade in the Mediterranean reigion.