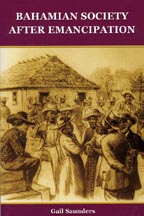 This book examines the social aspects of Bahamian society between the early 19th- and mid-20th- centuries, advancing our knowledge of Bahamian history and helping to locate the Bahamas within the regional and historical context of the West Indies. It shows how, despite the absence of sugar and a commercial rather than agricultural economy, the Bahamas' social development bears a number of similarities to that of other countries of the Caribbean in terms of the extreme poverty experienced, the oppressive socioeconomic conditions, and acute racial and social divisions that developed in the post-emancipation era.
The first part of the book details life and culture within the black community and includes chapters on the colored middle class in the late 19th- to mid-20th-century, the role of women, and aspects of African-Bahamian cultures during the same time. The middle section underscores the effects of Prohibition, including blockade running and alcohol tourism, and the impact of traditional tourism on Bahamian society. The final part of the book covers the historical events that arose out of the growing dissatisfaction among blacks with respect to racism and political and economic marginalization, including the riot of 1937 and the strikes of 1942 and 1958.
About the Author: Gail Saunders, Director of Archives of the Bahamas, is the author of numerous books including Islanders in the Stream: a History of the Bahamian People.